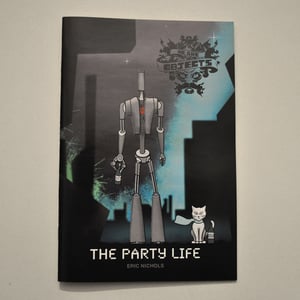 $

5.00
"The Party Life" mini comic + original music soundtrack download + W.A.O. sticker + 1.25" pin
"The Party Life" is a full color, 16 page epic adventure of how Party Bot meets Party Cat and they vow to always keep the party going no matter what. Born from the science experiment that killed off all the humans, Lord Bubble Face will try relentlessly to diffuse their party plans. Do not miss this first We Are Objects comic release!
Artwork and Story by Eric Nichols.
Image and characters copyright © Eric Nichols, 2010. All Rights Reserved.